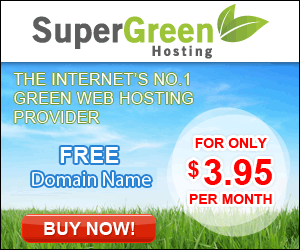 Known for its emphasis on green services, Super Green hosting is popular among socially responsible individuals and companies. Super Green's prices begin at only $6.95 per month, which can be lowered by 50% with a discount code from HostingCompanies.com.
Super Green hosting promises a commitment to continually improving green practices. All of Super Green's servers are specialized equipment and produce 20% less CO2 than the average server. For the other 80% of emissions that would come from a regular server, Super Green is partnered with a tree planting project to neutralize the effects of emissions. This allows Super Green to offer carbon neutral operations while still maintaining outstanding reliability and service.
Super Green offers clients a special green badge to prominently place on their websites. The badge is a visible notification to customers that Super Green's clients care about the environment and are taking steps to address the emissions that they can control.
The domain services offered by Super Green include:
Automatic domain renewal
Domain registration fees
Domain transfers
Free domain name
Unlimited hosted domains
Super Green will help clients transfer their domains from an existing hosting company and will handle any domain registration fees that may need to be paid. Super Green renews domains automatically to prevent cyber-squatters from stealing a client's rightful domain at a vulnerable moment.
Clients can build their own websites using Super Green's drag and drop software. This allows clients with varying skill levels to position website elements and creates the look that they want. Drag and drop is an easy protocol for anyone to use.
With one of the largest libraries of scripts available, Super Green clients can create complicated and professional websites even if they don't have much technical experience. Super Green provides a simple one-click application to install scripts and website applications, making it perfect for busy or inexperienced clients.
Customer service with Super Green is available 24 hours a day, 7 days a week. Clients may contact customer service via:
Email
Online chat
Telephone
All of Super Green's customer service representatives have been rigorously trained and vetted before being allowed to interact with clients. With years of experience, most of Super Green's customer service representatives are veterans in the field. Customer service support is completely free to all clients.
As an additional sign of good faith, Super Green offers a complete money-back guarantee to all of its clients. Clients can ask for a full or pro-rated refund at any time if they are unsatisfied with their service. The money-back guarantee is a sign of how certain Super Green is that they can deliver quality service to each and every client.
For clients who are looking to burnish their environmental credentials, Super Green hosting can be a step up in a competitive business market. With customers increasingly patronizing green businesses, companies who use wasteful services or tools are losing out on potential sales. Clients looking for ways to improve their green record should consider Super Green for all of their hosting needs.
*Disclaimer* We are not Supergreenhosting.com nor do we provide web hosting services to customers directly. We receive compensation from the web hosting companies for customer sign ups. HostingCompanies.com is independently owned and operated and our reviews are written by professionals.